A thought for your mind - There are thousands of registered bands in India. How many of them have you heard of? Maybe a rough hundred?

India's been long suffering for a sound that can make people lose their mind or jump off their chair. Well, there are many bands that provides unique sound and are pretty good, indeed. Then why they aren't on MTV or VH1? That's the question most of us have asked during our prayers.

Bands in India have long suffered the cloistered confines of the city's residential neighborhood. You neither can hit that snare hard nor can sing G10 range. Being quiet isn't really possible for a band. Jampads are the messiah for so called frustrated rockstars who want to light up their performance by practising hard and hitting hard. They save them from an unnecessary hassle and fight with the neighbors.

These jampads costs mere 200-500 bucks per hour session and hefty discount if you sign up for more than 30 hours. Here is the list of top jampads in India where you can hone your talent.

DYVe, Bangalore -
It has been running successfully for four years now, and has catered to top artists from Bangalore. That has been the outcome of DYVe having always been dedicated to helping artists develop their sound, and providing them with the adequate guidance and support needed to make it in this industry.


Location - 144, Lower Agaram Rd, Vivek Nagar, Bengaluru, Karnataka 560047
Rates - Rs. 500/hour

Blue Riff Jam Pad, Pune -
It's a full-fledged practice jam pad and a hall for music workshops, creating a comprehensive facility that provides an all-in-one experience for the professional artist. More than 10 years of guitar and drums teaching experience, they also provide guitar, drums, keyboard and DJ classes.

Location - Shop No. 1, Ground Floor, S.no. 154 / 155, Hadapsar, Pune, India- 411028
Rates -

Steamy Peanut Jampad, Hyderabad -
Steamy Peanut is a brainchild of Suzuki and is one of the finest jampad in the vicinity of Hyderabad. It is a full-fledged digital/virtual audio studio with perfect sound proofing and names like Paradox Pulse, Empty Sepulchre, Judgement Day etc. have jammed here.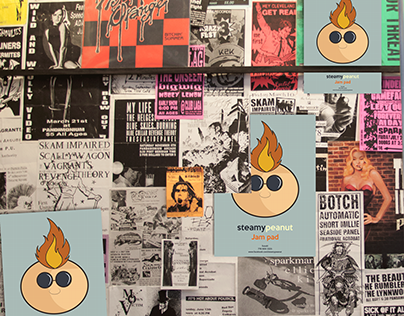 Location - Diamond Point, Hyderabad, India - 500034
Rates -

Crescendo Practice Pads, Mumbai -
Located at Link road in Malad, Crescendo Practice Pads has quite a lot to offer their musicians. It has been created for those who not only want to make noise, but also believe in bringing their aspirations into reality. The are equipped with almost everything you will need for a great practice session.


Location - Building No. 2, Gala No.11, New Sonal Industrial Estate, Link Road, Malad West, Mumbai, India - 400064
Rates - Rs. 250/hour

Echoes Rehearsal Pad, Kolkata -
With the burgeoning talent of guitarists, drummers, singers, and other musicians in Kolkatta, skill has rarely been a roadblock–but the lack of space certainly has. Echoes Rehearsal Pad offers professional setup for the musicians to jam hard.
Location - Paikpara Row, Kolkata, India - 700037
Rates -