Standup comedy is still in its nascent form here in India, but it is evolving phenomenally. It might easily take another 5-10 years for the industry to bloom, but stand up comedians are already taking it to another level. We have comedians like Papa CJ, Abhijit Ganguly, Zakir Khan and many more, roaring out laughter from the Indian audience. But we are yet to see more from their female counterparts. Mostly, in a country like India, where male dominance over the female is still a culture, a female standup comedian is not welcomed. Nevertheless, some dared to stand out from the crowd and prevailed. Let us check them out (not literally!)
Aditi Mittal
26-year old Aditi Mittla is one of the most well-known female comedians in the circuit. She studied in St. Mary Boarding school in Pune and found her calling in comedy soon after. She's known for her intriguing sex-doctor character, Mrs. Lutchuke, a well-meaning older woman who has gained notoriety for her "Guide to Losing Your Virginity." She is a regular performer at Canvas Laugh factory and has also appeared in CNN-IBN's Phenking News by Cyrus Broacha. Aditi was one of the founding members of theGhanta Awards and the Filmfail Awards, two of the biggest parody award shows in India. The Times of India has dubbed her "One of the Top 10 Comedians in India," and CNNIBN India states that she's one of a "top 30" group of intelligent, funny women to follow on Twitter.
Aparna Nancherla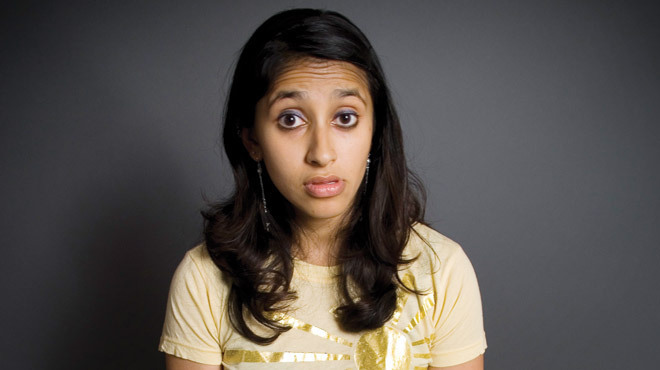 An intimidating name, Aparna Nancherla is one of the most sought after comedian in the scene. She is a laughter entrepreneur whose journey started from Washington DC. Her style of comedy is dry and sarcastic, and her act is sprinkled with absurdist and arbitrary point of view. Often bespectacled, the unassuming Nancherla seems to relish defying expectations.
Neeti Palta
She is, perhaps, the most favorite face of Indian comedy. Her uniqueness? She gave stand up comedy a female point of view, in almost every aspect of life. From the life of an average woman to Indian culture and current affairs, she is ready to bring out the humor side. She has performed in a variety of places like Delhi, Bangalore and was India's first standup comedian to perform at the Melbourne Comedy Festival in 2013.
Bharti Singh
Bharti Singh is an Indian stand-up comedian and an actress. She shot to fame as one of the participants of Indian Laughter Challenge 4 followed by many comedy series of Comedy Circus. She has also shown her dancing talent in Jhalak Dikhla Jaa. Currently, she is seen in Comedy Nights Bachao on Colors.