Jazz is music for every ear out there. It is one of the most soothing genres of music that cannot be explained but felt. After all, it is the mix of a complex soundscape. Hence, most people tend to slip towards music that is easier to comprehend. Keeping all these in mind, let us check out some of the best Jazz bands in the country.
HFT
A band that plays World Jazz, this band is an urbane and well-travelled Jazz band from Delhi. Jazz is evident on their guitar melodies and the walking bass, along with djembe and Cajon grooves. The songs are meaty and juicy with wailing guitars and thumping drums and rhythms. The band's influences range from Miles Davis to Baaba Maal. Drawing inspiration from everything present around at that time, their music sounds the best and hence, no performances are the same.
Syncopation - The Band
Founded in 2009, Syncopation plays a crazy mix of Modern Jazz blended with elements of Swing, Bebop and Funk. Modern funky grooves circle soulful melodies with wild improvisation. When talking about live music, the band's energetic ambience is generated at the present moment. Constantly rediscovering the boundaries of Jazz, their music is dynamic and ever changing.
Drift! The Trio
Drift! is a contemporary Jazz trio from Delhi, who have performed both as trios and as parts of larger setups featuring vocalists, saxophonists and various other instrumentalists from around the world. Each of the members has toured extensively around the world as session musicians with some of the best jazz/rock musicians. Every time they perform with new musicians; they come up with new arrangements and a new sound.
Chlorophyll Dreams
The band was formed by like-minded musicians young musicians from Kolkata, who were looking forward to redefining the boundaries of Jazz fusion, contemporary, traditional and smooth Jazz. Their music reflects avant-garde and progressiv elements, fused with atonal, polyrhythmic and melodic elements.
Louiz Banks Matrixx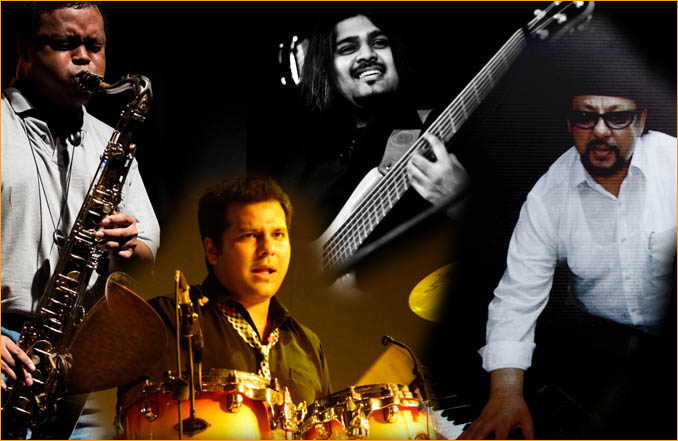 India's Jazz icon for the past 30 years, Louiz Banks Matrixx band is a Neo Progressive Jazz fusion band. The band members are some of the best musicians in India and have toured all across India, performing some of the best Jazz music there is. The music is all about Jazz, along with some clever interaction of the musicians to the environment around them.