It was the golden period of the world music when the sitar virtuoso Pandit Ravi Shankar collaborated with the maestros from the West. From George Harrison to Yehudi Menuhin, so many musicians were enraptured into the mysticism that Indian Classical Music held in its musical treasure.
Yehudi Menuhin and Ravi Shankar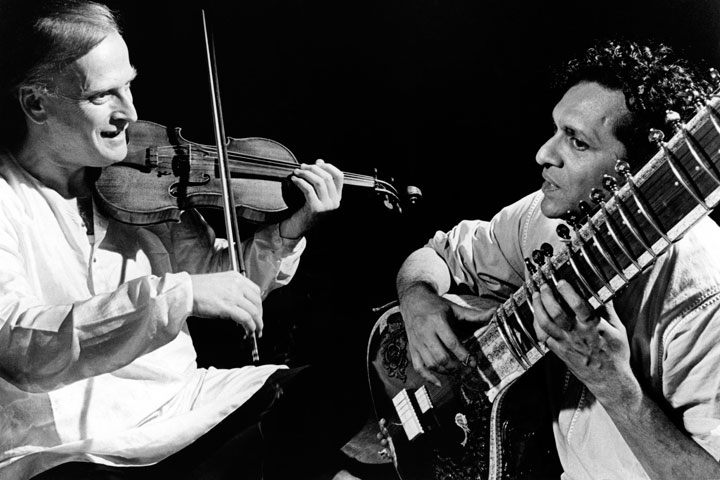 In the wake of early 50's, Yehudi Menuhin first heard Ravi Shankar in a private gathering at a friend's place in New Delhi. It was the time when Delhi was brewing with natural beauty. From women clad in beautiful saris to exotic birds singing in the trees, the environment thrived in excellence to produce maestros like Ravi Shankar, Ali Akbar Khan and many other gems from the world of traditional Indian Classical Music. According to the Swiss violinist, Ravi Shankar first offered the suggestion to collaborate with him. He was however, hesitant in the beginning but later locked himself away in full swing to tune with the sitar maestro. Shankar gave him lessons on the basic formation of the music patterns. Yehudi Menuhin describes the experience of collaborating with Shankar as one of the greatest adventures of his life. They performed in New York in 1965, locked away from the world, rehearsing together for four days at a stretch preparing for the concert. Beyond the world of music, the musicians shared 43 years of friendship.
Philip Glass and Ravi Shankar
Did you know that Philip Glass was hired by Ravi Shankar to be his assistant?
The prolific musician was hired to work as a notate in a film called Chappaqua. As Philip recalls, Ravi was about 45, and he was 20 years younger than him. He was given the assignment to write the melodies of Shankar and interpret it according to the standard of Western music and Philip was given about half and hour to do or else he would be fired. Philip hadn't heard the Indian music before and eventually he was in trouble when all the top rated musicians began arguing about his note style. And then Philip created something remarkable which made him stand out in front of the maestros.
"I did a remarkable, intuitive thing, which is I took the music I had written down and I erased all the bar lines. And suddenly, I saw something which I hadn't seen before. "
This was actually just luck, in a certain way. I saw it, I analyzed it very quickly, and I saw also that there was a cycle of 16 notes that kept coming up. Later, I found out that was called a taal.
And rest is history.
Philip Glass and Ravi Shankar have collaborated together in the musical album named Passages. Released in 1990, the album is a hybrid of Hindustani classical music and Glass' distinct American minimal contemporary classical style. The album is ranked at a peak position of number three on Billboard's Top Music Albums Chart.
George Harrison and Ravi Shankar
George Harrison was often touted to be more musically evolved than his peers in the classic rock band. It was his sheer willingness to learn the sitar which made him approach Shankar that eventually established the historic duo. The pair spent weeks together, beginning with lessons at Harrison's house in England and then moving to a houseboat in Kashmir, later on to California. After understanding the instrument and its complex ways, Harrison gained the confidence to play "With You Without You" on the Beatles album "Sgt. Pepper's Lonely Hearts Club Band" helping spark the raga rock phase of 60s music and putting Shankar's work in the world podium.
With Harrison and Shankar's bond, the popularity and craze for the Indian Classical Music came in the forefront. Shankar shot to fame as he played a four - hour set at the Monterey Pop Festival. In an interview given to Rolling Stone Magazine at the Monterey Festival, he quoted:
I was shocked to see people dressing so flamboyantly. They were all stoned. To me, it was a new world.
The album "East Meets West" gives a stunning account of audio treat to music lovers who want to understand the magic that formed with the collaboration of Shankar and Harrison.
George Harrison describes Ravi Shankar as the godfather of world music. Ravi Shankar helped millions of jazz, classical and rock lovers discover the century's old tradition of Indian music. His unforgettable concert for Bangladesh gave way to a new culture of rock benefit which took place with the concert. Shankar has put the Indian classical music in the global front.
His contribution to the world of music is difficult to express in words. He carries a genre of musical heritage which takes years to understand. For the ardent lovers of music, Ravi Shankar's collaborative effort to create music with the acclaimed musicians of the west has resulted in the creation of an artistic piece which will remain timeless forever